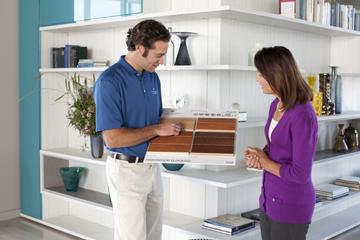 Madison Commercial Flooring
Floor Coverings International of Madison provides bids on commercial flooring services in the Madison area. Our commercial flooring specialists can help you determine what type of flooring best fits your commercial flooring project needs.
If you would like a bid for your commercial flooring project, give us a call today at 608-478-0498.
We can help you find the right floor for your particular commercial needs. We have a wide variety of commercial floor types available, including some great floor coverings for high traffic areas. Do you need something more heavy duty? We can install commercial floors that are slip retardant, gouge resistant, and suitable for heavy loads.
Whether you are considering tile, VCT, carpet, wood, laminate, vinyl or linoleum, or any other type of commercial flooring, Floor Coverings International of Madison can help.
Here are some things to consider when choosing the type of floor covering that is best for your Madison area commercial flooring project.
VCT - Vinyl Composition Tile (VCT) is a popular choice for commercial applications due to its durability, low maintenance cost, resistance to stains, and price. VCT is a common choice in many types of buildings, including health care facilities, restaurants, and retail stores.
Linoleum - Commercial linoleum floors can be affordable and are made to stand up to high traffic. Linoleum is also stain resistant and relatively easy to maintain.
Carpet - Commercial carpet or carpet tiles can be an attractive option. There are many different styles and patterns available from a variety of manufacturers, so your have many options when it comes to commercial carpet. Adding carpet to your floors can often reduce the noise level in your room.
Tile - Commercial grade tile also comes in a wide variety selections. Tile flooring works well in many areas of a building. Tile is often the best option in areas where you have moisture, such as a kitchen or a bathroom.
Stone - Stone flooring is easy to maintain, stylish, and durable. Stone flooring might not be the commercial flooring with the lowest upfront cost, but it is easier to maintain. Stone flooring provides a beautiful appearance that can last for a very long time.
Green Flooring - Many people and companies are choosing floors made from sustainable products. There are a variety of good options when it comes to sustainable flooring, including cork, bamboo, and sustainable linoleum. Bamboo can look beautiful and comes in many styles. Cork is great for noise reduction. Natural linoleum comes in many colors and is quite durable.
Other types - There are a variety of other types of commercial flooring options commonly used, such as concrete, rubber, and vinyl.
If you would like to speak to someone about a Madison commercial flooring bid for your project, please call Floor Coverings International of Madison today.